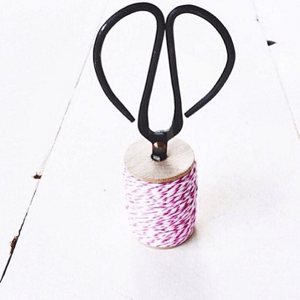 $

18.00
This raspberry divine twine & classic 4" rustic black scissor combo is the perfect addition to your craft and sewing room.
20 yards on a wooden spool
wooden spool 1-15/16" tall
100% Cotton - soft to the touch
4-ply - nice and strong
Made in USA
Bio-degradable - earth friendly
Care: Oil the blades periodically with a light coating of oil (sewing machine or another fine oil) to keep them cutting smoothly and to prevent rust. Wipe the blades thoroughly with a clean, soft cloth to remove any excess oil. To remove any remaining residue from your scissors, cut through a scrap of fabric a few times.